This Soft Slide Sandals have been designed with comfort in mind. It makes you feel as if you are stepping on the cloud, giving you a sense of cloud feet, when you put it on, can let you unload all day tiredness. Erogonomically designed EVA sole provides perfect support for your feet and is not tired after long-term wear. Another, its design is modern yet stylish. You will love these slippers once you wear it!
This sandals are the answer to all your foot and joint pain problems! They are soft, comfy, lightweight, and stylish. Easily wear them for 12+ hours without any discomfort.
HIGHLIGHTS
Ergonomical design, fit the curve of the foot and provide perfect support for the feet
Slip-proof and no noise, large grooves in the sole design eliminate noise
Material, the 1.69-inch thcik and lightweight sole is as comfortable as steepping on a hamburger
Quick-drying without odor, it is waterproof and quick-drying, giving your feet a dry environment

FOOT PAIN RELIEF
Are you tired of coming home from long days out, taking off your shoes, and aching in pain? We know exactly how that feels...
Now imagine sliding your feet into a therapeutic cushion sandal that makes every step more relaxing. Pretty nice, right? This sandals is your best choice. Free yourself from arthritis, plantar fasciitis, or any type of foot pain with total comfort.
HIP & JOINT PAIN
Ergonomically designed, the 4.5 cm thick, anti-slip EVA compression material instantly relieves joint pain, knee pain, back pain, and helps fix posture. The toe-to-tail is 15° angled balancing the pressure from your feet through to your hips.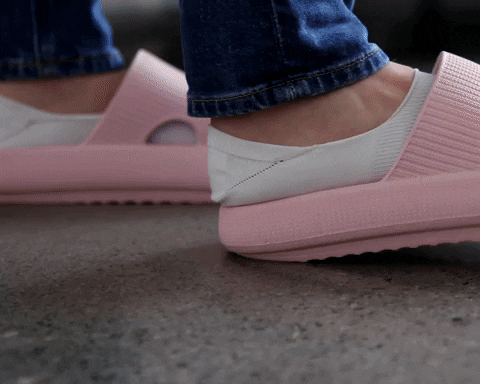 FASHION IN STYLE
We know you like looking good! Our multicolor selection of this sandals easily stands out in any occasion. Enjoy stylish walks on the beach, running errands, cozy coffee dates with friends and family, or quality time with a someone special.
Happier social lives, homes, and relationships are one foot-heaven step away.
WORK FROM HOME IN COMFORT
Tired of constant sweaty feet? Our anti-wick, lightweight material allows for breathability and sweat-resistance throughout the entire length of the sandal.
WATERPROOF & EASY TO CLEAN
This sandals are 100% waterproof and weatherproof. Combined with anti-slip and anti-chafe textured materials, you can comfortably wear these in the shower, outside, and in any weather condition.
Fun fact: this sandals weigh less than your phone too!
Purchase notes
Due to the influence of the shooting light, monitor and other factors, the color of the picture you see may deviate from the actual color, and finally the actual color shall prevail;
During the selection process, slippers should be 1-2 sizes larger than your daily shoes.
Service description
Merchandise must be returned to us within 14 days from the date of delivery;
You can request your return by logging into your account, or by visiting our returns page. For direct assistance you may contact us at Customer Service Phone or Customer Service Email;
The shoes must be in perfect condition. Returning shoes of which the soles appear damaged may result in a fee;
We offer free shipping on your exchange item(s);
See our Return policy.